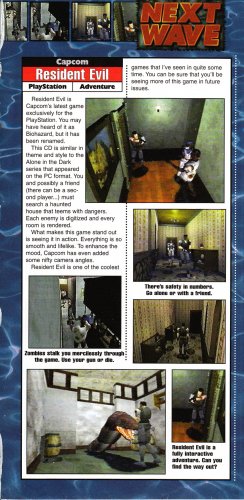 Even if you played the daylights out of Resident Evil, even if you can beat the game handily with an S-ranking and one hand tied behind your back, you've never seen Resident Evil quite like this...
EGM previewed the original Resident Evil for the Playstation back in issue #75 in their "Next Wave" column. This was over two years before the game made it to the US, and still very much in its beta stage. And wow, what a difference a couple of years makes! Click that picture to your left and check out this treasure trove of retro goodness.
The polygon count for characters in these images is far lower than the final product, but what's even more awesome is to see the two-player mode not only discussed in the text, but shown in the screenshots! Yeah, that's Jill tagging along with Chris in several of those images. Way before it had a street date announced in Japan, Capcom was forced to ditch the two-player mode. These pics from EGM are one of the only ways to get a glimpse at what could have been. It's not until the PS2 era that we get a truly multi-player Resident Evil experience, so the idea we might have had it in 1997 is intriguing to say the least.
A few other changes are also immediately obvious, like the room with the snake encounter. And what are those weird things on the floor of the wallpapered hallway? Everyone remembers the dobermans busting through the windows in the final version...were those some sort of wriggling insect enemy they did away with? Dead chunks of a gun-blasted zombie? The world may never know...
In any case, enjoy this forgotten look at this genre-defying Playstation classic!