ISSUE: 3

Content

Scan updated with new version on Octobe 18, 2019

Features:
Playing to Win (Editorial welcoming readers to the third issue)
Map Your Way to Victory (Making your own game maps, or using those provided by the software, to ensure victory)
Thumbs Up! Buying the Right Joysticks (Picking the proper peripheral for perfect play)
Directory (Contact info for the companies whose games are listed inside)

Strategies:
Blaster Master
Breakthru
Contra
Double Dragon
Gauntlet
Ghosts 'N' Goblins
Iron Tank
Karnov
RoboWarrior
Super Mario Bros. 2
Bases Loaded
City Connection
Commando
Friday the 13th
Galaga
Ghostbusters
Ikari Warriors II: Victory Road
Lee Trevino's Fighting Golf
Legend of Kage
Life Force
Metal Gear
Metroid
Platoon
Renegade
Seicross
Star Voyager
Tetris (Tengen)
3-D World Runner
T&C Surf Designs: Wood and Water Rage
Xevious: The Avenger

Notable Stuff:
The editors' strategy to defeat the armored tanks on the Snow Field level of Contra is to let them kill you and just run by while invincible. Er...why not just stand on the left side of the screen and, you know, shoot them?
Lots of spelling/grammar errors in the Gauntlet entry ('know' instead of 'now', 'them' instead of 'then', etc...).
No mention of the fact you have to beat Ghosts 'N' Goblins twice, guys? For shame...
The editors also seem to have trouble differentiating between 'loose' and 'lose'.
The screenshot for Legend of Kage where it claims Kage has been killed by alerted guards is actually a shot of him reading the Scroll item, which results in a torrential rain of dead enemies.
Alternate cover: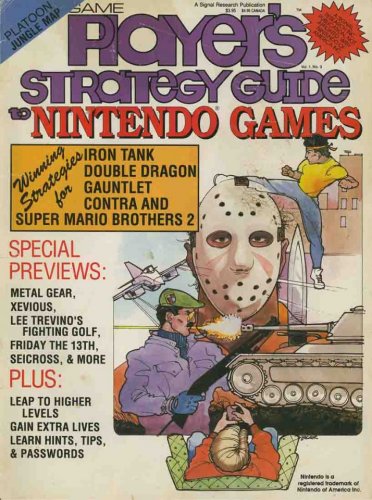 1
---
Report Issue